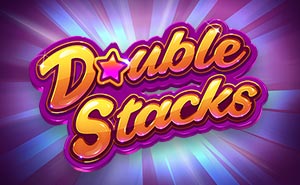 Double Stacks
About Double Stacks Online slot
This online slot is the latest from gaming provider NetENT. Double Stacks online slot is a fruity classic themed slot with many symbols that all slot players will recognise such as the 7's, BARS and fruits. This slot is bright and vibrant in it's graphics making for an immersive classic slot experience. Not only that, but this online slot contains 2 extra bonus features that give the classic style a twist. The first is the Double Stacks feature, this is activated when you land a row of the same symbols. These symbols will then be doubled in value and added to your total, meaning you may win bigger. The second is that if you land 2 or more Scatter symbols it will activate the Free Spins bonus where you will receive a set amount of spins depending on the amount of symbols that you land.
Double Stacks buttons
Total Bet The total bet is the amount that you will have at stake per win, this can be altered using the (+) or the (-) buttons. The amount that you are betting is shown under the Bet window at the bottom of the game interface.
Spin If you are happy about the amount of money that you have at stake, then the spin button will start the game. The reels will spin and the symbols will land in certain combinations.
Menu While you are playing this online slot, you can find out more information about it by clicking the Menu button. The Menu button is located at the right hand side of the game interface, this contains information such as the paytable and the value of each of the symbols.
Bonus Features
Double Stacks Whilst your playing the Double Stacks online slot game, you may activate the Double Stacks feature. This means that if the reels stop and one of the rows is filled with the same symbol then all of the symbols on this reel will double. This means that each of the symbols will be worth double their value, this will be then added to your winnings.
Free Spins Watch out because landing 3 or more of the games Scatter symbols on the reels will activate the Free Spins bonus round. During this round there will be stacked Wilds added to the reels. The amount of free spins that you have will depend the amount of scatter symbols that you land on the reels. These are as follows:
2 Scatter Symbols - 2 Free Spins 3 Scatter Symbols - 5 Free Spins 4 Scatter Symbols - 15 Free Spins 5 Scatter Symbols - 30 Free Spins