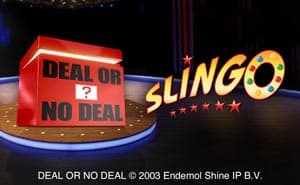 Deal or No Deal Slingo
About Deal or No Deal Slingo
The Deal or No Deal Slingo game is one of the most popular offerings from Slingo Originals, the team of developers behind this incredibly unique type of online casino game that has taken the internet by storm. By combining the mechanics of slot machines and adding in some of the most well-liked features in online bingo, players are given a well-rounded offering of gameplay that could be incredibly rewarding and immersive.
Deal or No Deal Slingo is inspired by the famous game show of the same name in which players take the hot seat to be in with the chance of winning a cash prize by opening boxes and either accepting or rejecting the Banker's deals. In the Slingo version, the gameplay is nicely familiar which will impress fans of the source material but serve as a great introduction to the theme for players that have never seen Deal or No Deal on the TV.
At the start of the round, you'll pick a box from the selection presented to you on-screen. This box will stay with you throughout your Deal or No Deal Slingo gameplay. As the numbers are called and marked off the numbers grid, you could complete Slingos (also known as lines or paylines) - get 4 Slingos and you'll receive a call from the Banker with an offer. Will you accept his offer, decline it, or keep on spinning?
Deal or No Deal Slingo Symbols
Joker: The Joker will serve as a Wild which means that all unmarked numbers in its column will be highlighted and you can pick any one of them to mark off.
Super Joker: The Super Joker is an upgraded Wild and allows you to mark off any of the numbers on the grid.
Free Spins: The Free Spins symbol will add an extra round of gameplay that will be played at the end of the standard game.
Devil: The Devil serves as a blocker for potential matches on the reels, so keep your eyes peeled for this Slingo villain!
How to Play Deal or No Deal Slingo
Stake: As with other mobile slots the first thing you need to do is pick out a stake that is suitable for your budget and gameplay preferences. Unlike with slot games, this amount is not deducted from your balance every time you spin - it's taken at the start of gameplay and grants you 10 spins (with the ability to purchase additional spins once the initial 10 are completed).
Pick Your Box: From the selection of boxes that are presented to you, you'll need to pick one. All boxes contain a randomly assigned prize - but this isn't necessarily the prize you'll win as you can accept the Banker's offer for a potentially higher amount!
Banker's Offer: After 4 Slingos are completed players will receive a call from the Banker. Based on the contents of the boxes that have been marked off the grid, the Banker will give you an offer - you can take this and receive an instant prize, reject his deal and open your box to receive its contents or just continue playing.
Multipliers: If you continue playing after receiving the first offer from the Banker, a new multiplier will be unlocked with every line that you complete. This amount will be applied to all potential prizes - so you could win up to 20x which is the top prize awarded to those that manage to get a Full House.
Extra Spins: At the end of your 10 spins (plus any Free Spins where applicable) you'll be given the opportunity to purchase additional spins with the value of said spins being displayed. You can see the total amount you've staked in this round at any time.
Pink Casino's Deal or No Deal Slingo Review
Slingo is an incredibly innovative type of casino game that we're thrilled to offer our Pink Players. Whether you're new to playing Slingo or already have a favourite that you tend to play, Slingo has something for everyone - the gameplay is simple but really immersive and interesting and the features and prizes on offer are definitely something to watch out for. Deal or No Deal Slingo, in particular, has a great branded twist to put it on a well-deserved pedestal. Whether you choose to stick with your box or accept the Banker's offer, you could win some fantastic multiplied payouts!