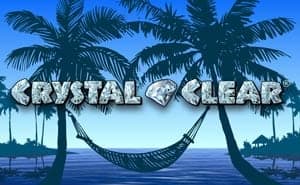 Crystal Clear
Base Game Crystal Clear is played on a 5x4 reel slot and uses 10 paylines.
Buttons
Info To take a look at the games Paytable and any other information about the game, just press the Info button.
Stake Per Line The amount you stake on each of the 10 paylines can be changed by using the up (+) and down (-) arrows.
Bet Before you play, make sure to check the Bet window, which will show you the Total amount that is being staked on the next spin.
Auto Pressing Auto will give you the choice of a number of rounds to make the game automatically play for.
Start When you've decided on your Bet and you're ready to play, press Start to begin the next game round.
Crystal Clear Free Spins
Before each new round, there are 8 Wilds that are placed on each of the 5 reels. Each time you win, every winning symbol used that was not a Wild, will then be changed into a Wild. The reels will then spin again, with even more Wilds added to the reels. If the reels give you another win, then all non-Wild winning symbols will again be changed into Wilds. This will keep happening until there is no new win, or until the Jackpot is won. During every spin, there is a counter that is placed at the bottom of the reels that shows you the number of Wilds in each individual reel.