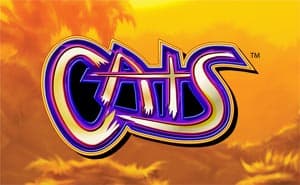 Cats
CATS SLOT GAME
Cats is another high-quality game from IGT, a company known for its innovation and video slot presentations. This particular game has 5 reels and 30 paylines. IGT keeps up their high standard with the normal features you expect including Wilds, Scatters, and a Free Spins bonus. It also offers the Split Symbols feature unique to IGT.
Split Symbols makes it possible to win prizes that go above and beyond standard line wins. You are paid not only for the number of adjacent symbols in a winning combination of three or more, but also the total number of cat symbols on that line.
HOW TO PLAY
Big cats are your friends in this game, so keep an eye on them as you spin. To get things started, use the + and - buttons of the 'Lines' window to determine how many of the 30 paylines you want active for your next spin. Then use the + and - buttons in the 'Line Bet' window to determine how much you want to bet per line. The game will multiply the active paylines by your line bet to determine your total wager for that spin. Your total wager is displayed next to the 'Line Bet' window.
Clicking the yellow 'Spin' button at centre initiates a single, manual spin. You can spin automatically by clicking the blue 'Auto Spin' button instead. Doing so allows you to choose a predetermined number of spins the game will make for you. Next to the 'Auto Spin' button you will see windows displaying your running balance and any amount you won on your previous spin.
WILD AND BONUS SYMBOLS
The Cats game logo serves as the Wild symbol. Use it to create its own winning combinations or combine the symbol with others to generate line wins. The Wild can substitute for all other symbols except the paw print, which just happens to be the Scatter symbol.
Scatters pay separate wins whenever they appear on the reels during standard play. The Scatter symbol is also used to trigger bonus play. Note that the symbols only appear on reels 2, 3 and 4, so pay attention to that. If you land four Scatter symbols during standard play, you will win a prize equal to double your total wager for that spin.
SPLIT SYMBOLS FEATURE
Cats features the IGT Split Symbols feature that adds an extra level of excitement to gameplay. To understand how it works, you first need to know that all of the cat symbols come in two varieties: single symbols and double symbols. A single symbol acts just like any other symbol to create winning combinations on the reels. The double symbols are different.
Wins in Cats are calculated based not just on the number of matching symbols in a winning combination, but also by the number of identical cats on the same line. So for purposes of illustration, assume all five reels on a single line came up with the same double symbol. You would be awarded a prize based on those five reels containing like symbols PLUS the 10 identical cats on that line. As you can see, the Split Symbols feature could increase your winnings significantly.
FREE SPINS BONUS
Triggering the Free Spins Bonus is a matter of landing 5 or 6 Scatter symbols on reels 2-4 during a standard spin. Five symbols gets you 5 free spins while six symbols awards 10 free spins. All spins are conducted automatically as you watch. The same Scatter award for landing four Scatter symbols applies during the bonus round as well.
The Free Spins bonus features a different set of reels with much higher values. You can trigger additional free spins by landing 5 or 6 Scatter symbols on any one spin. Spinning continues until all spins have been exhausted or you reach the prize limit of 10,000 coins.
ADDITIONAL INFORMATION
Although Cats doesn't offer half a dozen bonus games or complicated storylines, it is a rather entertaining game nonetheless. The Split Symbols feature really sets this game apart. The combination of Split Symbols and the extra rich reels of the Free Spins bonus is pretty good, should you trigger it.
Please note that all winning combinations must consist of at least three like symbols on consecutive reels on the same line. Winning combinations must also originate from the far left position. Coincidental wins on multiple paylines are added together to create the total award for that spin. However, only one win is awarded per payline.
Scatter wins are paid separately, so they do not affect the one-win-per-line rule. For more information about how wins are calculated, please consult the paytable. Information in the paytable includes pictures of all of the symbols along with their values.
Standard transaction limits also apply to Cats. A single transaction is that collection of standard and free spins that occur using the balance of credits the player possesses at the start of the game. A game officially ends when the player either withdraws remaining credits or reduces the available balance to zero. That means a single game can be carried across multiple sessions.
The game will immediately stop if the transaction limit is reached. In such a case, any outstanding free spins will automatically be voided and no further awards given. The game will also immediately stop as a result of any user misuse or software malfunction. A stoppage for either reason immediately voids all pays and plays.