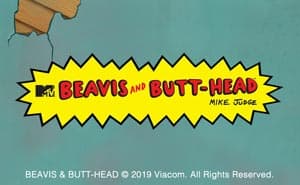 Beavis And Butthead
About Beavis and Butthead slot!
Beavis and Butthead are back! The popular parody that follows the exploits of two dirtbags, lives on thanks to Blueprint Gaming. The Beavis and Butthead Slot is a 5-reel, 3-row, 20 payline online casino game, that lets Pink Players follow in the footsteps of the daring delinquents, as they sit doing what they do best, watching TV. But this time, Beavis and Butthead take a seat on the sofa, armed with popcorn, to watch Pink Players spin through the radical set of reels displayed on their TV! Hit the play button on the side of the clunky 90's television and watch the action of Beavis and Butthead slot unfold.
Staying true to the original gritty details of MTV's corny controversial TV series, Blueprint Gaming have developed this online casino game with impressive attention to detail, even down to the cracks in Buttheads walls! Blueprint Gaming are notorious for their impressively themed casino games, taking The Goonies as a leading example, where the slot showcases actual clips of the Spielberg smash hit and Beavis and Butthead is no exception! Fans of the series will appreciate Blueprints efforts to bring the terrors to life, with plenty of cut-scenes and animations to look forward to revealing! Keep your eyes peeled across the reels, as you will uncover standard royal J, Q, and K symbols, along with memorable characters from the reels - no Beavis and Butthead slot game would be complete without the Hippie Teacher, Principal and the Boisterous Buttheads themselves making an appearance across the reels.
In terms of Bonus features, Blueprint have pulled out all the stops to ensure the Beavis and Butthead casino game is hilariously entertaining on all parts. Pink Players sift through the reels from the comfort of Buttheads sofa, but keep an eye on the pesky pair, if they start to snigger, one of eight modifiers may come into play where they take centre stage! Taking the Butt Flambe modifier as an example of what's to come, Beavis will chug a bottle of hot sauce and his onset flaming farts can trigger blazing bonus features! Along with the abundance of meddling modifiers, there's also an epic 6 Bonus Rounds to trigger, each offering up their own exceptional experience, following the pair through their day to day rebellious antics!
Since airing in 1993, the animated sitcom series Beavis and Butthead have since inspired full-length movies, video games and now, an epic slot adaptation! Even if you're not a fan of the series, or if you're simply not familiar with the boisterous pair, the excellent video graphics and bonus features on offer can appeal to all types of online casino players! Flick on the TV and tune in for a spin of Blueprint Gaming's Beavis and Butthead slot across all devices, here at Pink Casino.
Beavis and Butthead's Radical Bonus Features
Couch Your Cash!
Take a seat on the infamous sofa next to the dumb-witted duo and spin through the reels across Buttheads old-school TV. If the pair start to scoff and snigger, Pink Players may have randomly triggered one of the following Couch your Cash modifiers!
Die Fly, Die!
Butthead is tired of a fly buzzing around the reels! The pair spring up from the sofa in this bonus modifier and smack the clunky TV with their fly swatters. As they try to swot away the fly, their failed attempts turn certain symbols wild across the gameplay!
Cornholio Wilds
Beavis' wacky alter ego may spring to life! Cornholio the colossal may appear across the TV reels and offer Pink Players fully stacked Wild Reels.
Colossal Couch Fishing
Butthead may pull out his fishing rod to help Pink Player fall Hook, Line and Sinker for Giant Symbols! Couch Fishing will hook Pink Players up with 3x3 Mega reels to land Giant symbols, that will provide plenty of identical symbols for increased chances of winning.
So Nacho!
If Pink Players are feeling peckish, Butthead may pop open a bag of Nachos! In his attempt, the bag of nachos explodes into an orange mess of flaming nachos across the reels. The Nacho mystery symbols will eventually transform and offer Pink Players a set of identical symbols to offer winning potential!
Butt Flambe
Beavis has a bad case of Flaming Farts! Watch on as he chugs through a bottle of hot sauce, that causes an onset explosion across the reels! His blazing bottom may then set fire to the reels and trigger the Bonus Feature!
Some Like it Hot
The delinquent duo never learn, as Beavis and Butthead dare each other to both chug the hot sauce once more in the Some Like it Hot modifier. This time, they burp fire onto the reels, awarding Pink Players with a spin of the red-hot reels, with a guaranteed Big Win!
Additional Modifiers
If Six modifiers isn't enough for Pink Players, there's a further two that may trigger after any spin! These can happen after any winning/losing spin! There two extra modifiers are as follows:
Sofa Slugfest
Join the Slugfest! Butthead pulls out his fishing rod once more and this time it catches in Beavis' hair! As he pulls to release, Beavis flies across the reels and symbols are randomly knocked out and replaced with new ones to create a winning combination.
Change The Channel
If Butthead gets bored of Pink Players spinning show, he'll grab the remote and change the channel during this modifier. As he does, the reels will spin once more to reveal a winning combination.
Buttheads Bonus Games
Six boisterous bonus rounds await Pink Players in the Beavis and Butthead online casino game! Each round transporting our online slot players to hilariously themed ventures which are cut-scenes from the original show! To enter Buttheads Bonus Games, simply land 3 or more of the Hollywood Star Scatters in any position on the reels. The duos clunky TV will then change the channel and present our Pink Players with 6 Filmstrips. Select one of the hidden filmstrips to reveal one of the six bonus features on offer, or a Mystery Win feature, which will instantly award a random cash prize! The Bonus rounds on offer are as follows:
Don't Be A Buzzkill Bonus
Dude, Don't be a Buzzkill! This Bonus round sees the delinquent duo sitting in coach Bradley's office, where the coach presents a task to Pink Casino players. Pick either Beavis or Butthead to raise the coach's 'Kill-o-meter'. Selecting either heads may reveal an instant cash win, or a buzzkill, which will raise the kill-o-meter and make Coach Bradley see red. Once the meter is at full rage capacity, Coach Bradleys office bursts into flames and the feature returns players to the base game, with any cash prizes won in this round instantly added to Pink players balance.
Customers Suck! Bonus
The starring 'Customers Suck!' Bonus, sees Beavis and Butthead working a shift at 'Burger World'. The chaotic cashiers give Pink Players the option to select from a row of four food boxes to reveal instant prizes. Each different type of fast food will present a multiplier, which are added together to award a final multiplier once the bonus is complete. This entertaining bonus round also offers Pink Players the chance to upgrade their bonus feature to the Maxi Mart Free Spins by revealing three golden burgers. But watch out! If Pink Players reveal 3 hazardous worm burgers, the danger meter will fill and players will return to the base game, where any winnings will be instantly awarded.
To 'B' Or Not to 'B' Free Spins
Join the boys in Buttheads front yard, where Pink Players will receive 10 Free Spins that will spin through automatically. For every spin, either Beavis or Butthead will turn Wild to offer Pink Players plenty of radical winning potential. During this Bonus, Pink Players can also grab Holywood Star symbols that may lead to extra instant prizes! Land three to trigger 3 More Free Spins, or land 6 Hollywood Symbols and be transported to the Just Deserts Bonus round!
Maxi Mart Free Spins
The Maxi Mart Free Spins, take place in a peculiar set of drink dispensing reels! In this Free Spins Bonus, Pink Players receive an initial 12 Free Spins to play through. With the addition of a Maxi Gulp feature, where empty cups will fill up across the reels and award Pink Players with wilds. The Token feature of the To 'B' or Not to 'B' Free Spins, also applies with this bonus round and follows the same process, where landing 3 will award 3 extra spins, and 6 will transport players straight to the Just Deserts bonus.
The Great Cornholio Free Spins
Beavis' alter ego is back, with his own bonus feature! Set in the boys school bathroom, Cornholio appears as stacked wilds across the row of toilets! Spin through 6 Free Spins and enjoy stacked Wilds as Cornholio could lead Pink Players to radical rockin' wins! The Token feature is also present in this bonus feature and follows the same process as the other Free Spin rounds. Where 3 Hollywood Symbols unlock 3 Extra Super Spins, or 6 Tokens take Pink Players to the Just Deserts Bonus!
Just Deserts Big Money Bonus
The Just Deserts Big Money Bonus, is quite literally… Just Deserts! The punk rocking pairs penultimate adventure sees Pink Players selecting from three animal skulls to reveal how many steps the pair will move across the plains to winning potential. Each step leads to a variety of multipliers that all tally up award a final multiplier to Pink Players total bet! The further Beavis and Butthead walk, the wearier they become, until they eventually collapse or reveal a collect symbol to signify the bonus round is complete. With an added 'Oasis' segment, that Pink Players may land on to award an instant mystery prize, the biggest Bonus Feature in Blueprint's Beavis and Butthead slot offers an exceptional mini-game filled with mega multipliers.
Feature Gamble
As Beavis and Butthead flick the TV on to reveal the awarded bonus round, Pink Players have the option to gamble away their feature to land a better bonus round! Select the Pick Again button to choose from the hidden film strips once more and Pink Players may upgrade their bonus round, receive a mystery win of an instant cash prize, or reveal a losing tile and return to the base game empty handed!
How To Play Beavis and Butthead Slot
Stake
Set your stakes with Beavis and Butthead! Simply press the up and down arrows next to the bet button, on the left hand side of the reels. This will in turn, respectively increase or decrease your total bet value.
Spin
Flick on the TV and watch your own show unfold across the reels. Have your popcorn at the ready! To set the reels in motion, simply hit the green arrow button, featured at the top right of Buttheads clunky TV.
Help
If you want to read up on Beavis and Buttheads unique gameplay, simply press the three bars button, highlighted in the bottom left corner of the gameplay. This represents the slots help menu, where Pink Players are free to read up on bonus features, paytable, symbol weights and more.
Pink Casinos Beavis and Butthead Slot Review
Blueprint Gaming have successfully reimagined the epic ventures of these protagonists, Beavis and Butthead in a hilariously entertaining online casino experience! Fans of the sitcom will enjoy the element of 90's nostalgia, as this slot offers Pink Players cuts from the very show! Or, if you're not familiar with the pair, the mass amount of bonus features and modifiers can appeal to all types of online casino players! If you're as impressed as we are with this immersive casino experience, grab a seat on the sofa next to Beavis and Butthead and tune in for an epic slot venture. Take a look at some other successful Blueprint adaptations if you're a fan of reimagined Slot Games. Including the bonkers big screen Burton movie, Mars Attacks!, where the task of saving the president from otherworldly martians falls on Pink Players shoulders! Successfully navigate your way through the extraterrestrials and enjoy Mystery Symbols, Instant Cash Prizes and Mega Modifiers!