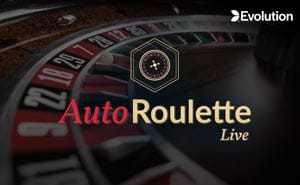 Live Auto Roulette
##What is Live Auto Roulette?
A typical live roulette game features a manual roulette wheel and a live croupier managing the game. This is a terrific way to play. However, it takes time for the croupier to do what he or she does. Furthermore, a manual roulette wheel is also subject to croupier spinning it. Game designers discovered they can speed up the live experience by eliminating the human croupier and substituting the manual roulette wheel with an automatic wheel.
There is no croupier in Live Auto Roulette. Rather, the wheel spins automatically as soon as all wagers have been placed. By automating the wheel, game designers have made it possible for online casinos to complete anywhere between 60 and 80 games per hour. Automation also makes it possible for players to play 24 hours a day, seven days a week, without having to rely on human croupiers to cover the tables at all hours of the day and night.
You never have to worry about table hours when you are playing Live Auto Roulette. The automatic wheel never needs to sleep or take a break. You can play around the clock using your desktop PC, tablet, laptop, or phone. But don't forget, this is still a live game; it's not a computer-generated simulation.
##How to Play Live Auto Roulette
Playing Live Auto Roulette is identical to other roulette games in terms of rules. The big difference with auto roulette is its faster pace. You place your wagers by dragging chips onto the appropriate locations on the betting table, click the 'Spin' button to indicate you're ready to go, and let the automatic wheel do its thing. You will see it spin in one direction while the marble spins in the other. And when the marble drops, you'll instantly know whether you've won.
Place a few inside bets to maximise your payouts on wagers with lower odds. Pick a single number or two, a group of three numbers, or perhaps a group of four. You can also place a few outside bets with higher odds just to balance things out. Your outside bet choices include options like odd/even numbers, red/black colours, or ranges of 12 numbers.
The number of wagers you place is really up to you. You can place as many bets as you want, up to the table limit, as long as you have enough chips. A good strategy of evenly placed inside and outside bets can leave you at the table for a long time, taking in the full experience of Live Auto Roulette.
In addition to some of the standard roulette wagers, here are a few bets that are considered a bit more advanced:
Street – This wager is placed on three consecutive numbers in a horizontal line on the table. For example, betting on 3-5-7 in a diagonal line is a Street bet. Corner – The corner wager bets on four numbers that all touch at one corner. A good example would be the 10, 11, 13, and 14. Dozen – This is an outside bet on a range of 12 numbers. You would wager on 1-12, 13-24, or 25-36.
The draw of roulette is found in the number of different wagers you can make. Make yourself familiar with all the possible options before you begin playing Live Auto Roulette. Remember that this is a fast-paced game that doesn't afford you a lot of time to linger. You need to be ready to wager as soon as the previous spin has concluded.
##Special Features in Live Auto Roulette
Bonus play makes Live Auto Roulette a lot more interesting. So keep an eye out for special casino bonuses that may appear from time to time. Bonus play ratchets things up a level by giving you more to play with. You can play Live Auto Roulette as a VIP player, meaning you are eligible for even more bonuses.
Live Auto Roulette is a live roulette game that takes everything you love about roulette to the next level with a faster pace, more speed, and more games played per hour. Yes, there are times when you want a live croupier and manual roulette wheel to play with, but there are other times when automation fits the bill. When you're feeling like you just want to play without any of the hanging about, Live Auto Roulette is the game to play.