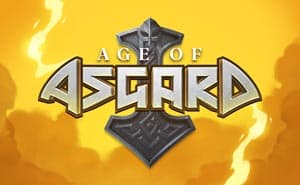 Age of Asgard
About Age of Asgard Slot
The gods of Asgard go to war with the creatures of Hel in Yggdrasil's icy Age of Asgard online casino title, transporting players into the freezing tundras of the Midgardian battlefield. Whose side are you on?
In a unique spin on the traditional reel setup, you have 2 reels to play on; the lower reel is occupied by the icy Jötunn giants of mythology, the hellish Jörmungandr serpent, and an eerie undead Draugr. On the opposing reel, your heroes include the goddess Freyja, a female Odin, and female Loki (okay, we'll call her an anti-hero… either way, she's on the side of the gods).
These reels spin separately to each other with no overlap like other duo-reel slot games you may have played before, which gives this an interesting twist and two chances per spin to score payouts! It's a really well thought out game that isn't afraid to break the mould a little bit - and we're all for it here at Pink Casino!
We've covered your high-value symbols and the payout for these reach up to 6x your stake for a combination of 5 across a payline. Your low-value symbols are also unique to each reel but are all unique runes - so you can identify them easily. There are some Wild symbols you'll want to look out for, too; in the base game these are large but there are some mini ones available in the Clash feature. In the Asgard reel, the Wild is a gilded image of a female Thor complete with her own mighty Mjolnir, and in the Hel reel, the Wild is a golden picture of the legendary Fenrir.
That's not all - you've got some brilliant potential casino bonus features to try and trigger including a few Free Spins options and Clash - with their own quirks and advantages. Before you armour up and get ready to spin into battle, we've gone into more detail on your features so you know what to expect:
Age of Asgard Bonus Features
Re-Spin
If any of your large Wilds fill an entire reel then you'll be rewarded with a re-spin to have another go at bagging yourself a winning symbol combination.
Clash
If a large Wild fills the entire reel on both opposing grids in the same position the characters will clash together, which means up to 4 random Wilds will make their way onto the reels
Free Spins
3 Free Spins symbols on a single grid will combine and expand to fill a 5x6 segment before awarding 10 free rounds that you can play through without staking a penny. During the spins, if you land a Wild that fills the entire 6-symbol high reel then you could be awarded a Clash and a Re-Spin!
Ragnarok Free Spins
6 Free Spins symbols will join both separate reels together to form one single 5x6 reel - plus you'll be awarded a generous 20 free spins! For the duration of your 20 spins the only symbols that will land will be high-paying ones, so potential payouts could be even bigger than in the base game. If Wilds fill the 6-symbol high reels then they are guaranteed to Clash, and award a Re-Spin!
Randomizer
If 5 Free Spins symbols appear on the reels you'll be taken to the Randomizer wheel which could award 1,000 coins or upgrade your Free Spins round to Ragnarok Free Spins!
How to Play Age of Asgard Slot
Coin Value
The (-) and (+) buttons can be used to decrease or increase your stake, respectively. There are plenty of stakes available to suit players of all slots budgets, so cycle through until you land on an amount that suits you best.
Max Bet
The Max Bet button is a shortcut to increasing your stake to the highest possible amount. If you press this, a pop-up will appear to display your new bet settings. You can press it again or use the (-) and (+) buttons to undo it if you change your mind at any time.
Spin
Hit Spin once you've chosen your preferred stake as this will be deducted once you hit the button.
Pink Thinks
This is one of the best mythology-themed slots we've seen in a while thanks to its unique separate reel setup and dedication to offering various free spins options. With frequent Wild reels, ample Free Spins rounds, and incredible 50 paylines during Free Spins rounds, this is definitely a game you'll want to earmark for future Viking-themed slots like Vikings Go Wild.