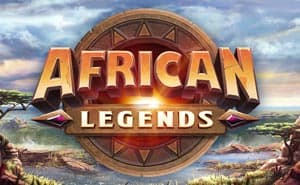 African Legends
About African Legends Slot
Given the title, we're sure the theme of the game needs no introduction, but it's certainly worth shouting about as it is one of the most stunning offerings of safari-inspired online casino gameplay on offer. The visuals are to an incredibly high standard, and this attention to detail carries through into some of the primary mechanics of the game. Notably, there is a huge progressive jackpot to be won, free spins to be triggered, and there are 243 ways to win with every spin of the reels - all making this one of our favourite slot games for its win potential and choice of features.
African Legends Bonus Features
Wow Major Jackpot: As one of the key features of the game, the Wow Major Jackpot offers players the opportunity to win incredible prizes worthy of a place in our top jackpot slots. So, how do you win the Wow Major Jackpot? It's as simple as triggering 8 consecutive 'Rolling Reel' wins which work in the same way as cascading reels. Essentially, every successful spin will remove the winning symbols from the grid and allow brand new ones to roll in from above. If this happens 8 times, you'll bag the jackpot prize. This jackpot offers at least £50,000 to those that manage to win it.
Free Spins: While jackpot prizes are certainly worth shouting about, free spins slots are some of the best online slots and certainly some of the most popular with players, too. Thankfully, African Legends also offers a free spins feature that is triggered through at least 4 consecutive Rolling Reels. You'll receive up to 20 spins and a multiplier of up to 10x depending on the number of Rolling Reels that occurred. The more the merrier!
How to Play African Legends Slot
Stake: The most important thing to do when playing a slot game is choosing a stake that is suitable for your budget. Should the default setting not be to your liking, press the menu button and choose from one of the bet amounts on screen. This will be deducted from your available balance with each spin.
Spin: After checking the rules and paytable of the game, pressing the Spin button will commence gameplay and trigger a single round valued at the current stake. You can also choose to set up Autoplay which allows for multiple spins to be added into a queue to be played through automatically. Autoplay can be stopped at any time - if you press Stop in the middle of a spin then all following spins will be cancelled but the one in play will finish as normal with any applicable payouts being awarded.
Demo & Free Play: If you want to get to grips with how to play African Legends, you can give it a spin in demo & free play mode. Log in or sign up for an account with us at Pink Casino and you'll be able to play some of our best online slots in this demo mode, allowing you to learn all about the mechanics and features first-hand - without needing to spend a penny! If you then decide you'd like to play for the chance to win real prizes, you can change over to using your own cash stakes at any time.
Pink Casino's African Legends Review
Perfectly designed to offer something for all types of casino players, African Legends is a gorgeously designed, payout packed, feature-driven slot game that we would place on our list of top slots. Unlike most other games that require specific symbols to land a certain number of times in order to grant players access to a feature, African Legends automatically triggers the jackpot and free spins bonuses after a set number of Rolling Reels.
Want to stick with the safari theme? Try the Savanna Stampede slot