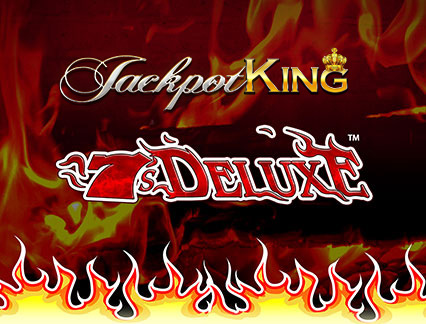 7's Deluxe Jackpot King
7s Deluxe Jackpot King Slot Key Points
Game Title: 7s Deluxe Jackpot King
Game Provider: Blueprint Gaming
Theme: Retro
Maximum Payout: Up to 1,250x
Winning Ways: Scatter pays
Volatility: High
Minimum Bet: £0.25
Maximum Bet: £125
Bonus Features: Progressive jackpot
About 7s Deluxe Jackpot King
7s Deluxe Jackpot King is an identity crisis rolled up into a slot machine. Released in 2020 by Blueprint Gaming, it's still exactly what would appear if you wished for the most retro game on the market. It's a brand new yet old-fashioned slot that combines fruits with Blueprint Gaming's progressive prize system, the regal Jackpot King.
This monarch might seem pauper-ish at first glance but find a trio of Jackpot King Deluxe symbols, and you'll trigger the Wheel King feature. Here's where the key to the progressive vaults lies.
As the 7s Deluxe Jackpot King game is an expansion on the earlier title, also called 7s Deluxe, a few things will be familiar to players of that game. Try it out at Pink Casino, and keep reading below for more about this fiery feast of fruit.
7s Deluxe Jackpot King Slot Gameplay
As mentioned, this game is a glimpse at the royal fruit baskets of the past. So, half of the symbols are pictures of fruit. The fruitiest (and, therefore, the most valuable) is the watermelon, which is worth 100 coins for three of a kind. Today's bargain bin fruit is the cherries. Three of these can be traded for 40 coins.
The remaining non-fruit symbols are the blazing 7s, the regular 7s, a pair of stars, two bells, and the classic BAR symbol. 7s are wild.
Fittingly, for such a retro experience, the 7's Deluxe online slot is controlled by just two buttons, namely, the bet value indicator on the left and the Spin button on the right. It's a standard 3-reel, 5-payline game board.
7s Deluxe Jackpot King Bonus Features
7s Deluxe Jackpot King has its bells on the reels but no whistles, so don't expect too much in the way of bonus features. There's just one, in fact - a big one.
Jackpot King Feature: There are a few different parts to this particular fruit basket. Once you've got those coveted Jackpot King Deluxe symbols on the board (three of them), you'll be able to spin the reels once more to collect Crown symbols. Your goal is to find 15 to start the Wheel King segment. Now, simply spin his royal roundness to see if you've won either a bet multiplier or part of the progressive jackpot. The prizes on the Jackpot King network are paid for with a small part of each player's bet.
7s Deluxe Jackpot King Review
This brainchild of Blueprint Gaming is far from the most featureful slot out there, but that's the entire point of the 7s Deluxe Jackpot King game. It's a straightforward game that doesn't steal attention from its progressive jackpot feature.
7s Deluxe Jackpot King naturally falls into the Gigantic Jackpots section at Pink Casino. We place 0.09p from each bet into the prize pool, so there's always plenty to play for. Tease your monkey brain with Gorilla Mayhem or get up to jungle hijinks in the Animal Antics online slot game. We've got you covered with multiple options.
7s Deluxe Jackpot King FAQs
Q. What is the maximum payout in 7s Deluxe Jackpot King
A. Win a maximum amount of up to 1,250x your wager with three burning 7s. This is separate from the progressive jackpot, which always has a variable prize.
Q. Can I play 7s Deluxe Jackpot King on mobile?
A. Yes. Play 7's Deluxe on Pink Casino's Android and iOS apps - tablet or smartphone.
Q. Is there a free spins feature in 7s Deluxe Jackpot King?
A. The 7s Deluxe Jackpot King game does not have a free spins feature. It's a classic sevens game.
More Games From Blueprint Gaming