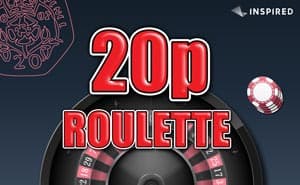 20p Roulette
About 20p Roulette
The 20p Roulette table is a fantastic offering of Roulette gameplay by Inspired Gaming, allowing rapid gameplay in an easy-to-understand format - perfect for those online casino players that are brand new to playing table games. Particularly if you want a simple way to get to grips with the rules and general gameplay of Roulette before you start playing in a live casino environment, 20p Roulette is a fantastic edition of an incredibly popular genre of casino game.
As the title suggests, this particular Roulette game is incredibly budget-friendly which makes it a great fit for players that like to keep their stakes low and their potential prizes generous. Chips can be stacked and placed on the table wherever you think the ball will land when the wheel finishes spinning. As long as your overall stake equals £1, you can bet as you like. You might want to cover multiple bases and place 20p chips on 5 single numbers or maybe you want to place a more general bet like reds or odds. The payouts on offer are generous with a single number bet paying 35/1, and a pair of numbers would pay 17/1 as a guide.
How to Play 20p Roulette
Stake: Unlike in other Roulette table games, you don't need to select chips in this title. All you need to do is decide where you think the ball will land when the wheel finishes spinning and place your chip(s) on that area of the table or racetrack. If you're betting on a single number you need to make sure your overall bet totals at least £1 before you're able to finalise the bet and spin the wheel. You can total £1 by stacking 5 chips on that single number or by placing your chip(s) on additional areas of the table/racetrack.
Pink Casino's 20p Roulette Review
Roulette is easily one of the most simple casino games to play here at Pink Casino, and 20p Roulette is a fantastic player-friendly edition to play - especially if you like to stake low. The potential payouts are still handsome enough to be rewarding but the stakes are nice and low, so you can learn the ropes of Roulette in a budget-friendly way if you've never played before.