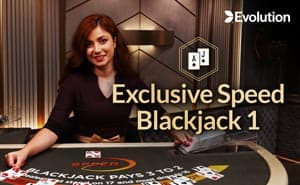 Exclusive Speed Blackjack 1
Exclusive Speed Blackjack Key Points
Game Title: Exclusive Speed Blackjack
Game Provider: Evolution
Theme: Blackjack
Maximum Payout:
Exclusive Speed Blackjack 1 Information
If you're looking for a game of blackjack which takes in all the traditional aspects of the game but looking for the need for speed, then it's time to try your hand at Exclusive Speed Blackjack 1 from Evolution.
Played like regular blackjack but with added speed, this game is hosted by a live dealer and features interactive gameplay to give the feel of being in a real-life casino.
Exclusive Speed Blackjack 1 Gameplay
Before you play a hand of Exclusive Speed Blackjack 1, you will need to select your stake for each hand. The minimum stake available is £10, with the max being £2,500 per hand. After choosing the amount, you will be ready to join the game and play your first hand.
To win, you will need to either make 21 or hold a hand higher than the dealer. This may be speed blackjack, but the rules of normal blackjack still apply. Round will just close quickly, so you'll need to make your decisions quicker.
Additional Features in Exclusive Speed Blackjack 1
Side Bets: Like all other blackjack games, players will have the chance to place side bets which include 21+3 and Perfect Pairs. Both these bets will award additional payout depending on the poker hand (21+3) or combination of cards which forms to make it (21+3).
Exclusive Speed Blackjack 1 Summary & Review
Exclusive Speed Blackjack 1 is a unique variant of normal blackjack as it offers a speedier game allowing for more hands to be played. It also includes side bets, and those alongside the interaction from the dealer and immersive gameplay makes this game one not to miss.
More Games By Provider