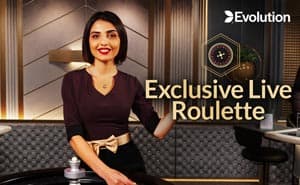 Exclusive Live Roulette
Exclusive Live Roulette Key Points
Game Title: Exclusive Live Roulette
Game Provider: Evolution Gaming
Theme: Classic Roulette
Maximum Payout: 35:1
Winning Ways: N/A
Volatility: Medium to High
Minimum Bet: £0.20
Maximum Bet: £5000
Bonus Features: N/A
About Exclusive Live Roulette
Exclusive Live Roulette is a live roulette table from Evolution. It has the popular European Roulette layout. An industry leader in its own right, Evolution delivers immersive, innovative, and sleek live roulette games. This one is no different.
Are you tired of queueing or waiting around? At the Exclusive Live Roulette table, you will always have a virtual seat available. Up to 1000 players can enjoy the game at the same time, making it a firm favourite among players from all over the world. Enjoy sophisticated game visuals, a neat layout, experienced live dealers, a wide range of betting options, and features that will give you the ultimate online casino experience.
Exclusive Live Roulette Gameplay
Exclusive Live Roulette follows the rules of European Roulette. On Exclusive Live Roulette online, you can place the usual bets, as well as some extra side bets. You can even select your favourite bets to have them at hand. Casual players and high rollers can both enjoy this live dealer roulette, with bet limits ranging from £0.20 to £5000.
Hosted by experienced dealers at special live red tables, Exclusive Live Roulette comes complete with an intuitive user interface and seamless HD streaming. It also supports different camera views, including 3D and multi-camera views. This creates an unforgettable atmosphere at the table by giving you access to perspectives you won't usually have access to. The layout is well organized, and it integrates all the crucial features without making the screen look crowded.
Exclusive Live Roulette features a physical betting table next to the wheel, which is usually skipped at standard live games. The dealer operates both the roulette wheel and the table. The payout varies depending on the type of bet. Inside bets have bigger payouts, with a straight-up bet having the highest payout of 35:1. Outside bets have lower payouts but higher probability. For instance, red or black, odd or even, and bigger or smaller numbers all have a 1:1 payout.
Exclusive Live Roulette Bonus Features
Although Exclusive Live Roulette does not offer bonus features, it still offers you enough to ensure you have a smooth game of roulette. Useful features include the Favourite Bet option (you can use this to apply the same bet throughout the game), live dealer interaction, extensive statistics, automatic video adjustment, multiple cameras that allow you to zoom in on the wheel, and a live chat. All these features work together to bring the gaming experience to the next level.
Exclusive Live Roulette Review
Exclusive Live Roulette is designed to give customers one of the best possible experiences. From skilled dealers to premium red tables, user-friendly interface, smooth streaming, and flexible betting limits, Evolution left nothing to chance. You'll feel just like joining a table in the classiest land based casino, with the benefit of playing whenever and wherever you want.
Exclusive Live Roulette FAQs
Q. Is there a bonus feature in Exclusive Live Roulette?
A. No, there are no bonus features in this live casino game.
Q. Can I play Exclusive Live Roulette on mobile?
A. Yes, the game is available across all mobile devices. It can be played on Android or iOS smartphones & tablets.
Q. What type of roulette is the Exclusive Live Roulette?
A. Exclusive Live Roulette is a game of European Roulette.
More Games By Evolution Gaming