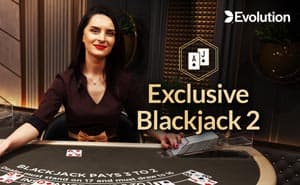 Exclusive Blackjack 2
Exclusive Blackjack 2 Information
If you're looking for a game of blackjack which offers the same experience as sitting at the table within a live casino, then why not place your bets as you play Exclusive Blackjack 2?
Developed by Evolution, this live casino variant of the popular casino classic offers a seven-seat table which is hosted by an experienced live dealer who will be on hand to talk players through the side bets and current gameplay that's happening. As well as the live dealer, there is a live chat function where you can chat with other players as you play.
Exclusive Blackjack 2 Gameplay
When you launch Exclusive Blackjack 2, you will first need to select your stake for each hand you'll play. The minimum bet on offer at this table is £10 with a max bet of £2,500. When you have chosen the amount, you'll be ready to play the next available hand.
Like all other games of live casino blackjack, the aim is to make 21 or beat the hand the dealer has. After the betting window has concluded, the cards will be dealt to the players, and the dealer will show one up-card.
Players will then have the chance to hit or stand depending on the cards they've been dealt, and if you achieve a win, the amount will be paid to your balance accordingly.
Bonus Bets in Exclusive Blackjack 2
As well as the traditional blackjack bets, there is also the chance to place additional side bets in Exclusive Blackjack 2.
21+ 3 Side Bet: This side bet allows you to bet on whether you think your two cards and the dealer's upcard will make a poker hand. There are different payouts available for each hand, from a flush to suited three of a kind.
Perfect Pairs Side Bet: This side bet allows players to bet on whether a perfect pair will be dealt in their hands. There are three on offer, mixed pair, colour pair and perfect pair, and each offers a different payout.
Exclusive Blackjack 2 Summary & Review
An interactive game that allows players to feel like they're playing within a live casino, Exclusive Blackjack 2 provides an immersive experience that allows players to bet on traditional blackjack bets and added side bets to make the game more interesting.
More Games By Provider