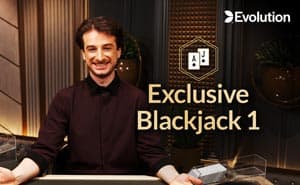 Exclusive Blackjack 1
Exclusive Blackjack 1 Key Points
Game Title: Exclusive Blackjack 1
Game Provider: Evolution
Theme: Blackjack
Exclusive Blackjack 1 Information
Take your seat at one of the most popular live casino games as you play Exclusive Blackjack from Evolution. Offering players the chance to play traditional blackjack from the comfort of their home, this game of blackjack provides an immersive gaming experience where you can play alongside a live dealer who'll be on hand to guide you through every aspect of the game.
Exclusive Blackjack 1 Gameplay
Before you take your seat at the Exclusive Blackjack 1 table, ensure you're familiar with the rules of the game. This will involve knowing what bets you can place at a table, the side bets on offer and the potential payout you can receive for your bets.
After reading the game information, you can then take your seat and get ready to play. Simply choose your stake, and the dealer will then deal with your cards as well as their own hand. The aim of the game is to beat the total amount held by the dealer without going bust (over 21). If the dealer has 21 in their hand, you must match that in order to receive your stake back.
Bonus Features in Exclusive Blackjack 1
As well as the traditional bets on offer within this game of blackjack, players will have the opportunity to place additional side bets, which will cost additional stake amounts. These bets include 21+3, which is awarded if you're two cards and the dealer's up card makes a poker hand and the Perfect Pairs bet, which pays out if the cards in your hand are the same number, same colour or the same suit.
Exclusive Blackjack 1 Summary & Review
When it comes to live casino games, we have lots to offer, and this version of blackjack from Evolution ticks all of the boxes. Providing players with immersive gameplay that is just like being in a land-based casino, Exclusive Blackjack is played in an exclusive studio with a live dealer who is knowledgeable about the game and will guide you through each hand, including the side bets. So if you're looking to explore live casino games, why not try this version of blackjack today?
Exclusive Blackjack 1FAQs
Q. How do you win in Exclusive Blackjack?
A. To win in Exclusive Blackjack, players must beat the amount held in the dealer's hand or simply make 21 from their two cards, as this will award an instant win.
More Games By Evolution