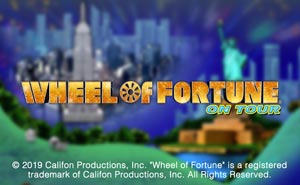 Wheel of Fortune On Tour
Wheel Of Fortune is played on a 5x3 reel slot, across 30 paylines.
Buttons
Coin Value
50 coins are being staked each time you spin the reels, and you can change the value of each of the coins in the Coin Value window.
Total Bet
The Total Bet window shows you just how much is going to be staked on the next spin.
Spin
Press Spin to place your bet and start the next round.
Win
When you have won, the final amount that you've won will be shown in the Win window.
Balance
The Balance window lets you keep an eye on how much you have left to play with by showing you a live counter of your accounts Balance.
Autoplay
Select your stake, and select the number of preferred rounds, and the Autoplay feature will automatically play for you.
Settings
The Settings window lets you choose just how you would like to play the game.
Bonus Rounds
Wheelmobile Wilds
Wheelmobile Wilds can appear randomly on any spin, just watch out for the Wheel Of Fortune Wheelmobile to make it's way across the reels. Each time it crosses over the reels, an Extra Wild will be revealed, giving you a much better chance at getting those big wins.
On Tour Bonus Wheel
Find 3 Bonus Symbols anywhere on the reels and you'll get the chance to spin the On Tour Bonus Wheel. There's a chance to win cash prizes and Bonus Rounds, depending on which level you are.
Level Up Feature
Every time you spin the reels in Wheel Of Fortune On Tour, you'll be earning experience points that will help you Level Up. Your Levels will be kept for the next time you decide to play the game, so don't worry about losing your progress. As you Level Up, you'll get access to more Bonus Features and even a permanently enhanced chance of winning!
Level 1
Everyone starts at Level 1, so there are no additional features, you'll have to Level Up to see what's in store!
Level 2
After you level up for the first time, your first bonus will be the Free Play Free Spins Bonus. An extra wedge will be added to the On Tour Bonus Wheel, and landing on it will give you 3 Free Spins. Before each spin, a random symbol will be chosen, and each time this symbol appears on the reels, it will be turned into a Wild. By the 3rd spin, 3 different symbols will all be Wilds on the reels, so there are huge chances of winning big.
Level 3
Reaching Level 3 will give you an Expanded Top Award. Each time you spin the Bonus Wheel, the Expanded Top Award will triple the chances of landing on the games best prize.
Level 4
The Letter Board Picker Bonus will be unlocked when you reach Level 4. This feature will have you choosing different tiles to reveal prizes. The prizes you could reveal are a Coin Win, a Coin Win and an extra pick, and a multiplier with an extra pick. Altogether, there are 500 credits, 7 extra picks, and a 5x multiplier available to choose.
Level 5
Reaching Level 5 will give you access to the Multiplier Wedge. This will be added to the On Tour Bonus Wheel, and if landed on, will award an extra spin, and a multiplier between 2x-5x will be applied to any win.
Level 6
When you reach Level 6, you'll get the Spin To Win Bonus. You'll firstly have to choose your Top Award, which will be chosen from 5 letter tiles. You'll then spin the wheel and either land on your Top Award or another value. Landing on the Top Award will give you the best prize and will end the round. Landing on another value will give you a choice to either accept or reject the value. Accepting the value will mean you win your prize, and the game will be over. Reject the value, and it will be replaced with a 50 credit wedge. If you land on the 50 credit wedge on your next spin, you'll win that prize and the round will be over. Keep spinning the wheel until you land on a Top Award, accept a value, or land on a 50 credit wedge.
Level 7
The Final Level is Level 7, and when you reach it, you will get the Bonus Trigger Boost. This means you've got a better chance of getting the On Tour Bonus Wheel feature on each spin, and you'll also get a better chance at winning across all spins.