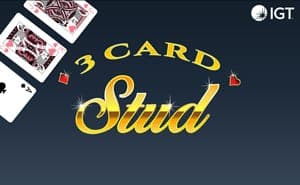 Three Card Stud
About Three Card Poker Slot
Boasting a full 52 card deck with only one aim: to come away with a stronger hand than the dealer using just the 3 cards you've been given. You've got the opportunity to put your poker face to the test in an online casino card game that offers you the chance to score some red hot wins! There are three different ways to play, giving you the freedom to approach the cards from different angles, so pull up a pew and get ready to face off with the dealer in a card game extravaganza.
Three Card Poker Slot Special Features
Pair Plus Bet
If you're confident with your current hand, you have the opportunity to set a side bet to work alongside your current bet; this will pay out if you hit a pair or higher but is completely separate from the main bet in play.
How to Play Three Card Poker Slot
Ante Bet
Many of you casino aficionados will be familiar with the concept of an ante bet, but for those that aren't, it's simply a bet that is placed before you've seen or even been dealt any cards. Choose your stake by amending the chip value and hit the Deal button once you're confident with your settings; this will deal out your cards. If this set of cards is higher value than the dealer's then you'll receive a payout, which is valued depending on your hand (pair, flush, etc.)
Play Bet
A play bet is the polar opposite of an ante bet in the sense that you get to see your cards before you decide on what you'd like to bet - this is a good option if it's your first time playing poker as it'll help with getting used to the game's rules. If you decide that your hand is likely to be weaker than the dealer's then you can simply fold. If it's a strong hand, however, you can stake to your heart's content using a play wager.
Pink Casino's Three Card Poker Review
If you've never tried your hand at any variants of poker before then IGT's Three Card Poker is a fantastic way to start playing as it speeds up the game to focus on the essentials of the popular card game. There are no bells and whistles attached, making it easily accessible to players - both experienced and brand new, so don't be put off by the concept of trying a new card game. If you prefer your casino games with more of an edge, we recommend giving our live casino games a try.