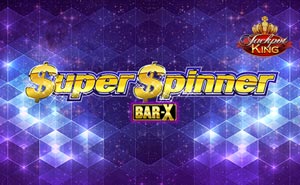 Super Spinner Bar X
Super Spinner is a 5x3 reel slot with 10 paylines. You could win the Jackpot King Progressive on any spin here, so give this slot a spin!
Buttons
Total Bet
Pressing Total Bet will bring up a screen that will allow you to choose how much you wish to stake. Just press one of the values, and your bet will be selected.
Menu
The Menu will show you some of the games available options, including: Game Info, Cashier, More Games and Add to Homescreen.
Spin
Once the Bet has been decided, press Spin, and your bet will be placed as the reels begin to spin.
Bonus Rounds
Super Spins
Finding 3 or more Super Spins will begin the Super Spins Bonus Round. You'll be taken to a new set of reels, which will always give you a win on every spin! The Round will continue until there are no more Super Spin, and your winnings will be awarded. There is also a chance to re trigger the Super Spins during this feature.
Jackpot King Progressive
Listen up Ladies, because this is the most exciting feature of them all! The Jackpot King Progressive Bonus can be triggered on any spin. Just find 5 Golden Crowns on the reels, and you'll be taken to a whole new set of reels. Here, you will have to spin to find Golden Crowns, which will take you up the Cash Trail. Collecting part of the Kings Treasure along the way will also award cash prizes, and free spin. At the top of the cash trail, you'll be greeted with the Wheel King Bonus. Spin the wheel to reveal your prize, which could be a 1000x multiplier, or even the whole Jackpot King Progressive!
Overall, The Jackpot King is funded via a seed, with 0.86% of each stake being added, as well as an extra 0.13% which is included for the Reserve Pot. The Reserve Pot is used for the Jackpot to commence after it has been initially won.