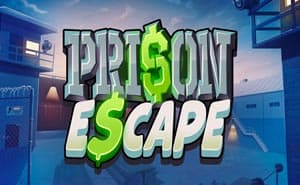 Prison Escape
About Prison Escape Slot
Fans of story-led online casino games have another great title to add to their lists as the Prison Escape slot by Inspired Gaming follows some questionable inmates as they endeavour to break out of their chains. Through a strong pay structure, a generous selection of casino bonus rounds, and plenty of opportunities to have a winning spin, this is a fantastic option suitable for fans of modern slot games.
This is a standard-sized 5x3 game with 10 paylines - you need to land at least 3 matching symbols across one of these in order to receive a payout as outlined on the paytable. The value of your payout depends on the number of matching symbols that are on a payline and it also depends on the particular symbol as they all have unique values. At the low end of the table are the standard J-A symbols which pay up to 5x. At the other end of the table are the high-value symbols - these include the Prison Bus, Searchlight, a Guard, and two of the inmates in question that are trying to escape. The most high-paying symbol on offer is the game's logo which can pay out up to 20x your stake.
Prison Escape Bonus Features
Blueprint Bonus Trail
Your goal in this board game-style feature is to reach the most potential-packed feature through gaining level increases and traversing the trail as you roll the dice. As you progress through the feature, the walkie talkie will be available to give you advice on whether you should continue rolling the dice or whether you should claim one of the bonus features you've already unlocked.
Warden's Offer Bonus: You'll be presented with a selection of lockers that all contain a prize at random; you'll receive the contents of the one that you pick out. Depending on the level, you'll be given a different number of picks to utilise. Level 1 has two picks with standard prizes. Level 2 has enhanced prizes. Level 3 has three picks and improved payouts. Level MAX has four picks and an extra key.
Workshop Bonus: The tools in view all have different prizes and one will be randomly selected and offered to you. You can either accept it straight away or reject that offer to try for another one in the hope that it will be higher - but it could always end up being lower! Level 1 allows you to reject once and offers can include up to two tools. Level 2 allows two rejections. Level 3 allows three rejections and offers can be up to three tools. Level MAX allows four rejections with offers containing up to four tools.
Control Room Bonus: This Free Spins-centric feature boasts some impressive extras including Locked Wilds with varying durations. Level 1 entitles players to 6 rounds of gameplay with Wilds locking for 2 spins. Level 2 has 8 rounds with Wilds locking for 2 spins. Level 3 offers 10 rounds with Wilds locking for 3 spins. Level MAX boasts 12 rounds with Wilds locking for 4 spins.
Paradise Fortune Wheel: This bonus can only be triggered by reaching the end of the trail in the Blueprint Bonus. A wheel with prize-packed segments will spin to reveal the payout you'll be awarded. Did you make it to the Paradise Fortune feature with both of your lives remaining? If so, an extra segment with a prize of 1,000x will be added to the wheel.
How to Play Prison Escape Slot
Stake: Using the up and down arrows above and below the coin icon will allow you to change the stake according to the budget you've set out for yourself.
Spin: Use the Spin button to play for a single round of gameplay at the stake that is currently set. You can alternatively hold the Spin button to see the Autoplay settings which will allow you to spin for a predetermined number of rounds without needing to press a button each time.
Pink Casino's Prison Escape Slot Review
If you're new to Inspired Gaming's games then this is a fantastic introduction, with immersive bonuses that can be greatly rewarding and some really impressive payouts to behold in the main game. The ability to level up your bonuses is a welcome addition, offering even bigger payouts, more spins, and some fantastic upgrades.