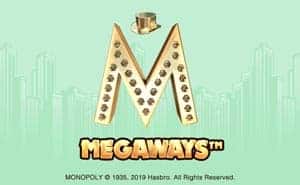 Monopoly Megaways
More Monopoly Games
About Monopoly Megaways Online Slot Game
Monopoly Megaways is one of the biggest releases of 2019, coming straight from the studios of SG Digital who have been incredibly revolutionary in the world of the online casino for their hugely popular slot games, boasting plenty of innovative features - from Megaways to Cascading Reels - that have rocketed their reputation in the industry.
This slot finds its origins in one of the most famous board games of all time, transforming it into a potential payout machine that could reward players with up to 15,000x their original stake thanks to its generous abundance of bonus features, all of which boost gameplay to make it a more varied slot experience.
Of those features available we think some of the standout bonuses for our players include the ever-popular Cascading Reels which will remove winning symbols in order to make room for brand new (potentially winning!) symbols; this could result in multiple wins within a single spin for optimal payout chances. Another intriguing aspect of the game is that Mr Monopoly will move around the game board each time you land a win. There are unique features that are unlocked when you land on certain properties (e.g. if you pass GO you'll receive the maximum number of ways to win: 117,649).
The graphics are very much honest to the source material and offer an authentic-feeling set of reels that replicate a board game brilliantly - but in a way that is understandable to a slots player. Your symbols, for example, are comprised of the Scotty Dog, Car, Ship, and Top Hat - all very iconic pieces of memorabilia from the original game. At the lower end of the paytable are the classic 9 - A card values that have been given a gleaming and glistening makeover.
Monopoly Megaways Bonus Features
Monopoly Board
Below the reels, you can find Mr Monopoly waiting for a winning combination of symbols which will cause him to take a stroll across the board.
Properties: If Mr Monopoly lands on a Property in your third cascade then a House will be added to it, and each extra cascade will add one more House.
Train Stations: The first time Mr Monopoly lands on a Train Station, you will own it.
Utilities: The first time Mr Monopoly lands on a Utility, you will own it.
GO: With every pass of the GO square you'll be guaranteed the maximum number of Megaways which means you'll have an incredible 117,649 ways to win on the following spin.
Community Chests: Whenever Mr Monopoly lands on a Community Chest he will be sent to a random Property where up to 4 Houses may be added!
Chance: Landing on Chance will result in either the maximum number of Megaways, trigger the Free Spins casino bonus round, or send Mr Monopoly to a random Property with the chance of being awarded up to 4 Houses.
Free Spins
You can trigger the Free Spins feature by having a fifth House placed on a Property or by uncovering a successful Chance card; this will give you 8 spins to play through at the current bet level. You can win extra spins by triggering the Free Spins feature a second time (which will award another 3 rounds), placing another House on a Property (which will award 1 extra round), or by owning a Train Station (which will award 1 extra round).
For the duration of the Free Spins feature, an Unlimited Win Multiplier will be active and it will increase by 1 for every Utility that you own, and for each House on every Property that is landed on during the Free Spins.
In summary, landing on particular segments of the Monopoly Board during Free Spins will result in different prizes as follows:
Train Stations: Landing on a Train Station that you own will award 1 extra spin for each owned Train Station.
Utilities: The Win Multiplier will increase by at least 1 whenever you land on a Utility that you own.
Chance: Every time you land on a Chance segment you'll either be sent to a random Property, be awarded a spin with the maximum number of Megaways, or given another 5 spins.
Properties: The Win Multiplier will increase by 1 for each House on that Property - but this will also remove said Houses from the Property.
How to Play Monopoly Megaways
Stake: Your stake can be increased or decreased from the default amount by using the corresponding arrow to adjust it according to your slots budget.
Monopoly Megaways Review
Everybody knows Monopoly - but if you've ever been curious about how Monopoly would work in the world of online casino then this is the perfect game for you, brilliantly incorporating payout-packed gameplay with a familiar feel. We've also got a brilliant live casino rendition of the famous board game in the form of Monopoly Live which is brilliant in similar ways! As one of our demo slots, you can try out Monopoly Megaways' features for yourself for free as a registered player!
Check out our dedicated page to take a more in-depth look at our other popular Monopoly casino games!