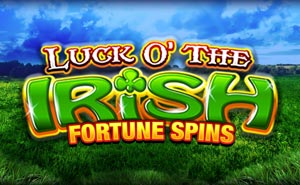 Luck Of The Irish: Fortune Spins
Getting Started
Tap the TOTAL BET panel to bring up your bet options. To change your bet, scroll the bet slider and tap on your chosen value.
How To Play
Press 'SPIN' to start the game. The reels will spin and eventually stop at random. If any winning combination appears on any win line, then you win. Wins are paid for 3 or more matching symbols on adjacent reels. Any wins will be highlighted and your winnings will be credited to your account balance.
Autoplay
By selecting 'AUTOPLAY' you can choose to place up to 50 bets automatically, one after the other. Select your stake as normal then press the 'AUTOPLAY' button to select the number of 'Autoplay' bets you want to play. You can stop Auto Play from continuing onto the next spin by clicking the 'STOP' button.
Other Features
SOUND ON/OFF: Select this to switch on/off all audio within the game. You can select this by pressing the 'MUTE/UNMUTE' button in the top bar.
HELP: Select this from the options in the top bar.
PAYTABLE: Select this by pressing the 'i' button above the reels.
About Fortune Spins
The player can choose to play FORTUNE SPINS at any time by pressing the FORTUNE SPINS button on the left-hand side of the button panel below the reels. They can choose to play at 20x their Total Bet. This activates additional reel sets and a special Luck O' the Irish symbol which can transfer to other reel sets. The player can change their Fortune Bet at the end of each Fortune Spin, as well as being able to return to the standard reels by pressing the STANDARD SPINS button.