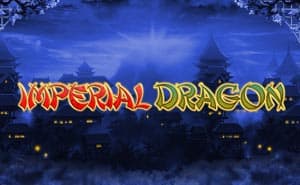 Imperial Dragon
Game Introduction
Imperial Dragon is a 5-reel online slot game with 20 fixed paylines to work with. Its Chinese theme is visually appealing for the most part, though the fonts can be hard to read at times. The game offers a progressive Free Spins bonus along with the unique gamble feature not found in many other games. It is well worth playing if you are a fan of Blueprint Gaming products.
How to Play
BASE GAME
The first thing to do is decide whether you want the Gamble feature on or off. The default is off. You can also choose to turn it on at 1x or 5x by clicking the button at the far left of your screen. When you are satisfied with your choice, click the green 'Continue' button at the right-hand side; your settings will save, and that button will become the 'Spin' button.
Next, use the + and - buttons to establish your 'Total Bet' to be evenly divided across all 20 paylines. Then click the 'Spin' button to begin play. Should you choose to click the 'Auto' button instead, you will be able to choose between five and 25 automatics bins.
Note that you can adjust the Gamble feature prior to any spin by clicking the button at far left. But be warned: if the feature is on, you will automatically gamble any wins in excess of 1.00. You do not get to choose whether to gamble after your winnings have been revealed on a given spin. Furthermore, you must turn off the feature before the next spin if you don't want to be forced to gamble. Any loss in a gamble will see you lose your winnings.
WILD AND SCATTER SYMBOLS
Imperial Dragon offers both Wild and Scatter symbols during gameplay. The Dragon is the Wild symbol, as you would expect, and it substitutes for all others except the Scatter. Wilds can combine with other symbols to generate winning combinations or create their own. Land five of them on a single payline and you could win a jackpot of up to 20,000 credits.
The scatter symbol triggers the Free Spins bonus when you land three of them in base play. They also pay out separate awards whenever they appear.
Free Spins Bonus
Also known as the Golden Dragon bonus, this game awards a number of free spins corresponding to the number of Scatter symbols that triggers the game. Three symbols awards 15 free spins, four symbols awards 20 free spins, and five symbols awards 50 free spins.
The bonus is also progressive in nature. As you spin, any Golden Dragon symbols that land on the reels are collected below the reels. If you accumulate enough of them, you will unlock additional reel sets that are worth more money:
12 symbols – reel set 2 with expanding Wilds
18 symbols – reel set 3 with expanding Wilds and no 10-Ace symbols
24 symbols – reel set 4 with expanding Wilds and no 10-Ace symbols
Every time a new reel set is unlocked, you will be awarded five additional free spins. Spinning continues until all spins are completed. Prizes are then calculated and awarded prior to returning to the main game.
Ladder Gamble Feature
Although we already mentioned the basics of the Gamble feature earlier, it deserves further explanation here. The feature is a two-part game that allows you to move up a ladder to increase your winnings with every successful gamble. In order to play this feature, you must activate it before a spin by clicking the 'Gamble' button at the far left of the screen.
Should you win at least 1.00 credits on that spin, you will automatically be taken to the Gamble feature after your winnings have been calculated. Within this game, you will be presented with a ladder to the left and a spinner to the right. The spinner board looks like a pie chart divided into two sections: win and lose. The proportions of each are established randomly when the game starts.
Prior to each gamble, you have the opportunity to move up or down the ladder accordingly. As you do, the win and lose proportions of the spinner board adjust as well. During the game you can win additional free spins and a chance to play the Imperial Spins mini-game – these prizes are in addition to multiplying your winnings.
The Imperial Spins mini-game consists of a number of additional free spins with a special set of reels. Spins are automatically initiated; all Wild symbols landing during the free spins will automatically expand.
You can continue gambling until you either lose or you click the Collect button. You can also bank a portion of your winnings during the feature to protect them.
Additional Information
Imperial Dragon is a fun game to play with enough unique twists to keep you interested. You may have to play the Gamble feature several times before you get the hang of it, but mastery could mean big winnings for you.
All winning combinations in Imperial Dragon must originate from the far left position and consist of at least three like symbols (with or without Wilds). Scatter wins are paid separately while line wins are limited to one per line. All line wins are calculated by multiplying the value of the winning symbols by the wager on that line.
Imperial Dragon includes a transaction limit, which automatically shuts down the game when reached. A single transaction consists of those standard and bonus spins played as long as you have credits to work with, regardless of how many sessions it takes to use or withdraw your credits. Incomplete games are voided after 90 days.