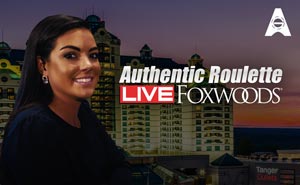 Foxwoods Roulette
Playing Foxwoods Live Roulette
The single zero European variant of roulette features a wheel with 37 numbers - they are 0 to 36. Up to 157 different types of bets can be placed when it comes to European roulette - including even money bets and odd/even bets, as well as groups of numbers. The betting table has inside and outside regions - wagers are placed according to where the player thinks the marble will drop after the next spin.
Playing the Foxwoods Live Roulette means connecting to a live, professional croupier within the casino. So the experience is exactly what you'd get if you visited in person. The Return to Player for Foxwoods Live Roulette is 97.3 per cent, while on all bets the house edge is 2.70 per cent.
Foxwoods Live Roulette Features
There are plenty of benefits to players who are ready to enter the real casino experience of Foxwoods Live Roulette online. Among the features of the game's neat interface are; a full game overview which can give you all the key information without interrupting a session; a bet history window which tracks a record of all your recent bet amounts and profits; and advanced game settings which include an auto maximum bet option.
Once you are ready and feel you've got to grips with the structure of European roulette, you can place your first bet by selecting a chip from the stack which is located to the right, placing it on the designated betting area. After the Foxwoods Live Roulette wheel has been spun, the winning number is then displayed on the screen. It is also highlighted on the table itself; so you really can't miss it.
If you have a favourite betting pattern which you wish to use again, you are able to save this underneath the tab for betting options. Once the wheel has been spun, the chips and betting options will be removed from the screen, and they will reappear once a new round of betting begins.
Foxwoods Live Roulette benefits from real casino audio, which doesn't need to fake its noises! Audio is fully adjustable using the speaker icon, and there is also a camera choice which allows the user to toggle between a classic roulette view or a multi camera view. With the multi camera view, you can take a look around the VIP gaming room in the heart of Foxwoods Resort Casino, fully immersing you in this iconic venue. The live footage screen can also be made smaller or larger, so you could minimise the screen to improve quality according to your internet connection.
For those who want their online casino visits to be as real as possible, look no further than Foxwoods Live Roulette.