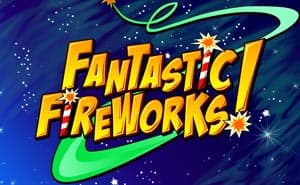 Fantastic Fireworks
Remember, remember... the Fantastic Fireworks online casino slot game! Blast off into a vibrant themed firework experience, designed by IGT. This 10-line 5x5 grid has plenty of bonus features to ignite players excitement. Look out for the Floating Reels feature, that could explode symbols and reveal winning combinations. Available on phone, desktop and mobile devices - players can light up their chances with ease here at Pink Casino!
About Fantastic Firework!
In Fantastic Fireworks, players can burst into an exciting slot game by filling the reels with 3 or more symbols. When longer chains that intersect appear, special fireworks are created that remain on the reels until they explode! Collect multiple special fireworks and spark a chain reaction. Fill up the Rocket Meter to launch one of 2 bonuses: the Free Spins bonus, with even more exploding symbols! Or, the Cannon Bonus, where you choose 3 cannons and reveal their red hot wins and ignite more cannons!
Fantastic Firework! Slot Features
Floating Reels Feature
In the Fantastic Firework! Slot game you're in for a fire-cracking experience! Expanding symbols are created for all chains of 4,5, or intersecting wins. Exploding symbols involved in a win struck by explosions, or occupying the same position as another exploding symbol, each explodes!
Each explosion pays a prize based on how many explosions have occurred to that point during a single float. All symbols in winning combinations struck by explosions disappear and empty spaces are filled as symbols rise from below, in sequence. Floats continue until no new winning combos appear. Take a chance at the Floating Reels with the Fantastic Firework! slot!
Exploding Symbols
Think you've got a lucky streak? Every chain of exactly 4 symbols creates a Boom symbol in the second position of the chain (from left, or top). Every chain of 5 symbols creates a 'Super Symbol' in the centre position of the chain. Every intersection of 2 wins of the same type creates a CrissCross symbol at the intersecting position.
• Match 3-style game – 3 or more adjacent symbols on a reel or a row create a win
• Exploding symbols persist between spins until they explode
• Exploding symbols can replicate, creating even more potential for big wins
• Collect Sparklers or a Rocket symbol to trigger a bonus
Pink Thinks
A novice player will be attracted to the playful personalities of the fireworks and the fun fiery gameplay of the match-3 style of the slot game. Experienced players will enjoy the potential to win large chain reactions of exploding symbols. Give Fantastic Fireworks! A spin on Pink Casino!