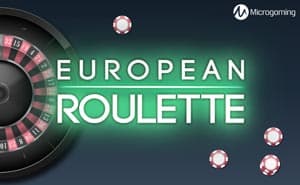 European roulette
About European Roulette
The objective of European Roulette is to predict which number the ball will land on, so the bet you place in this online casino game is based on your prediction. It's one of the most iconic casino games in the world and has earned its place in many land-based casinos around the globe for its popularity and ability to pay out fantastic prizes to winning players.
Microgaming's European Roulette offering is minimalist and simplistic to allow players a great arena in which they can get to grips with the rules of the game - perfect for new players or those returning to table games.
How to Play European Roulette
Selecting a Chip: The chips are contained at the bottom of the game interface and offer many different values to cater to all budgets. Find a chip that is suitable for you and press it to select that chip option.
Placing a Bet: Once you have decided which chip you want to use, place it on the position of your choice on the betting layout. You can add more than one chip to each number or colour and you can also place more than one bet.
Spin: Once you have decided on the bet that you wish to make then press the Spin button and the ball will be released. The ball will spin and once it has landed, any winnings will be immediately paid out.
Double: Pressing the double button will double the number of chips that you place on the table in accordance with your previous bet.
Table History: The table history option will show you information about the number that has just landed and all previous numbers. It will also show you the percentage of current black and red wins.