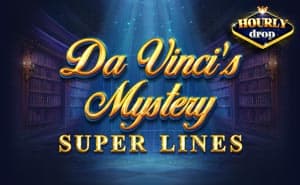 Da Vincis Mystery
About Da Vinci's Mystery Slot
Also known as Da Vinci's Mystery Super Lines, this Renaissance online casino game adds to Red Tiger's catalogue of exuberant casino inventions. Speaking of inventions, the titular character's own incredible creations are put on display in the form of high-paying symbols - notably the aerial screw which serves as the third most valuable of all the symbols in the game! This is an interesting twist on the usual symbols on offer in Da Vinci games like the original Da Vinci Diamonds where the focus was purely on his art and the art of his time. Delve into the secrets and intrigue of the man himself by spinning the reels of this Red Tiger slot game.
There is great win potential to be had of over 5,000x your stake thanks to a combination of the free spins casino bonus, increasing multipliers, supercharged wins, and generally well-paying symbols. With so many different aspects for players to get stuck into, this is definitely a great addition to the Da Vinci slots that we have on offer here at Pink Casino, following on from the success of prior titles like the Da Vinci Diamonds Masterworks edition. While this is the first Da Vinci game made by Red Tiger, they've certainly done justice to the original games that likely served as an inspiration to this modern, powerful payout slot machine.
As we mentioned before, there are a few extras to this game that really transform it into a quality slot game that does more than offer some pretty graphics to appease its players. The focal feature of the game is the Da Vinci Free Spins round which rewards you with 10 free spins in return for 3 Scatters. Now, that might not sound like a lot of spins but there are other bits and pieces going on for the duration of these spins that help them to pack more of a punch than the base game spins. Specifically, cascading reels will make an appearance! This means that if you get yourself a winning combination of symbols they will drop from the reels to make room for new ones - so you could get multiple wins from a single spin. You'll also notice a new reel of symbols has appeared so keep your eyes peeled as this could lead to bigger and better payouts.
Da Vinci's Mystery Bonus Features
Da Vinci Free Spins
To trigger 10 free spins you'll need to land 3 Scatters or more on the Da Vinci's Mystery reels - this will also award you access to another reel. At first glance, this looks a little complicated but it's really not, and it's a fantastic feature that we'd love to see make its way into other slot games.
Essentially, if you bag yourself a winning combination of 4 Qs then a 4x multiplier will be added to the Q symbol on the extra reel (this applies to every symbol; the Q is just an example). Now, if you get 3 Qs on a payline you'll be awarded a 4x multiplier on top of your existing payout for this - and then the multiplier value for all consecutive Q wins will be increased by 3. There is no upper limit to the multiplier value which means the payouts from this could be fantastic - and you have the ability to re-trigger the Free Spins feature.
As if that's not enough, the Da Vinci Free Spins bonus also introduces cascading reels to give you the opportunity to bag multiple wins in a single spin.
Super Lines
The Super Lines feature offers payouts from symbols that aren't beside each other - as long as your matching symbols are on the same payline at least 3 times. This is a unique feature that can help with bagging even more wins than normal, so it's more than welcome in our eyes!
How to Play Da Vinci's Mystery Slot
Stake
Adjust the amount of money you'd like to stake per spin by using the (-) or (+) buttons to decrease or increase it from the default. You can change this as much as you like in the same way as long as there are no spins in progress.
Autoplay
Want the reels to spin for a certain number of times? Using Autoplay might be a good option for you; this allows you to set gameplay parameters which will automatically end Autoplay if met or exceeded - and they come with the ability to add in win and/or loss limits.
Pink Thinks…
This is quite possibly one of our favourite interpretations of a Da Vinci slot game, serving up payout potential in the foreground of a dusty, mystery-packed library that is home to some of Da Vinci's most famous creations - from inventions to artwork, there are some great references in the graphics. If you're after a game with interesting quirks then the Super Lines feature and the extra reel that appears during the Free Spins round will both be additions that you'll be interested in, as they improve gameplay tremendously and contribute to the total maximum potential win of over 5,000x! Don't forget to look out for our online casino blog as we regularly update with great slot reviews, lifestyle pieces, and how-to guides to get you started here at Pink Casino.