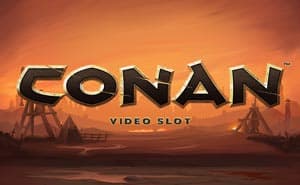 Conan
About Conan Slot
In an age of swords and dark magic Conan rises as the world's left hand of justice, brandishing a sword to impose his personal brand of heroism. Film buffs are bound to know all about the fictional Cimmerian hero; those who aren't familiar with him will get a great introduction in the form of NetEnt's Conan slot! Much like the rest of NetEnt's online casino games, Conan offers some fantastic graphics with superbly fluid animations to allow the title character to show off his warrior moves in style with a fight scene against an enormous boa.
Not only does the game offer some spectacular HD graphics but there are also some brilliant bonus features to help the game stand out for more than just its warrior theme. From Tower Wilds, Mystery Symbols, and Battle Wilds to one of the main features of the game: Free Spins. This is one of the most popular features of online slot games and it's executed brilliantly in Conan. To trigger it you need to land at least 3 Scatters and you'll be rewarded with up to 50 spins to spin through in an attempt to land some mighty wins. Not only that but you'll be presented with 3 extra options to see you through your free spins round, all offering unique gameplay experiences - and you can choose the one you most like the sound of.
As expected, the most valuable symbol you can create a combination of is Conan himself, offering payouts of up to 6x your stake, closely followed by the villainous sorcerer, Thulsa Doom, and then the pirate heroine, Valeria. These characters make up the high-value tier of symbols but your low-value set is also available, including imagery like helmets, swords, a grappling hook, and coins - all brilliantly in-fitting with the theme of the game.
Conan Slot Bonus Features
Mystery Symbols
Mystery Symbols can appear either single or stacked during Conan and have the ability to turn into any symbol to contribute to winning paylines.
Mystery Multiplier
If a fully stacked Mystery Symbol lands on reels 3 and/or 4 the Mystery Multiplier will be applied to the game. As the name suggests, this offers a completely random value that will be multiplied against the round's wins and can be between 3x and 7x! If this lands alongside a Tower Wild or Battle Wild then the Thoth-Amon feature will be triggered.
Tower Wilds
This tower-ful Wild feature will either entirely or partially fill reels 1 and 2 to give players the chance to land winning paylines that Conan himself would be proud of.
Battle Wilds
These Wild symbols can land on reels 5 and 6 with the ability to expand up to 3 positions sideways, making this battle one that you'll want to join in with because it could create some great winning combinations.
Thoth-Amon Feature
Introducing Conan's arch-nemesis: Thoth-Amon! This unsightly evil wizard will make an appearance if you land a fully stacked set of Mystery Symbols along with Tower Wilds or Battle Wilds. He will cast a spell that will add up to 6 Mystery Symbols to the reels on any position not already covered by a special symbol (e.g. a Wild, Scatter, or Mystery). This makes for a fantastic payout opportunity and could be great for lucky players that trigger this mysterious villain.
Free Spins
To be awarded up to 50 spins you'll need to land at least 3 Scatters on the reels - and a great addition to this feature is the Linked Reels aspect, which will link at least 2 adjacent reels together with each spin. Before you start with your free rounds of Conan you'll need to decide which Free Spins round you want to play with from the following:
City of Thieves Free Spins
In this round, you can expect Tower Wilds that will expand to fill reels either entirely or partially - and they can be found on any and all reels!
Temple of the Serpent Free Spins
This option serves up winning potential in the form of Mystery Symbols that could appear on all reels. The Mystery Multiplier feature can also be triggered from the Temple of the Serpent - and the Thoth-Amon feature is also available to be accessed by landing between 5 and 9 Mystery Symbols.
Walls of Tarantia Free Spins
Look out for fearsome Battle Wilds as they can appear on all reels with the ability to expand sideways up to 3 positions.
How to Play Conan Slot
Stake
Before you start spinning it's important to take a look at the current/default stake amount to make sure it's something you're happy to play with. If not, it's easy to change! Simply adjust the Coin Value using the up and down arrows until you find an amount that best suits your preferences. You can view your current bet amount at any time during gameplay - and you can change it up as often as you like.
Autoplay
Happy with your stake? You can choose to spin the reels automatically for a predetermined number of rounds by selecting the Autoplay button and choosing the number of spins you would like to start. If you click the Advanced Settings dropdown menu you'll also be presented with extra options to ensure that Autoplay ends prematurely if your win/loss limit is met.
Spin
Spinning the reels is the last step and can be done once you've made sure you're happy with the current stake, the game's rules, and all the extra details on the features on offer. When you're ready to start simply press the large circular arrow and watch the symbols fall into place.
Pink Casino's Conan Slot Review
If you're a Conan fan anyway then this is a fantastic addition to your list of favourite slots, thanks to its online casino interpretation of the warrior's story. Battle with his arch-nemesis Thoth-Amon in the bonus features, uncover the huge potential of the Wilds, and look out for paylines packed with matching symbols to walk away with a payout! This game follows in the footsteps of another of NetEnt's branded online casino games, the Narcos slot - which takes place in the city of Medellin inhabited by one of the most famous cartels in the world. Don't forget to look out for our online casino blog as we review classic slots, new casino games, and offer some fantastic lifestyle articles!