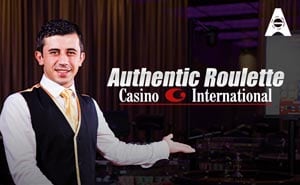 Casino International Roulette
About Roulette Casino International
While playing roulette in a traditional casino can be incredibly engaging, modern online live roulette games such as Authentic Gaming's Roulette Casino International offer several advantages. To begin with, there's no hassle involved – instead of planning a trip to your local casino, you can simply enjoy getting involved with all the action from the comfort of your own home. When it comes to the sheer thrill of watching the wheel roll, Roulette Casino International provides an experience that's as good as being there.
Roulette Casino International allows players to access live roulette on a 24/7 basis. The game has been carefully designed to capture all the fun of playing in a traditional casino, with careful attention paid to sound design and lighting. The addition of a live presenter means that players feel fully immersed in the closest thing to a real casino, regardless of where they are in the world. Once the presenter signals that it's time for the wheel to spin, players are given the option to place their bets before the real fun begins.
With several camera angles and a classy live casino feel, Authentic Gaming has got everything just right with Roulette Casino international.
Playing Roulette Casino International
Perhaps the most difficult part of getting into live roulette is learning how the often fast-paced betting system works. Thankfully, the Authentic Gaming team have thought of this and everything is explained in detail, particularly when a live croupier is operating the wheel.
Roulette Casino International is a live roulette title that, as one might expect, follows the standard international casino rules. Players can bet on red or black, odds or evens for lower returns, or can opt for less likely outcomes with the hopes of winning big.
For example, players can bet on whether the winning number will be low (1-18) or high (19-36). Alternatively, players can opt to bet on one of the three dozens found on the table. Wagers aren't confined to individual bets, either. If a player wishes to place a bet on their lucky number, in conjunction with odds or evens elsewhere on the wheel, they're free to do so. Thankfully, the innovative design features in the game make placing multiple bets on a single spin as easy as can be – where other games feature clunky interfaces that can cause frustration during the wagering period, Authentic Gaming has managed to create a stress-free means of getting involved with live roulette on its Roulette Casino International title.
Special features In Roulette Casino International
High rollers will be pleased to know that a "premium stakes" feature allows them to place large bets. During premium stakes play, higher minimum wagers are allowed which result in significantly larger payouts. In addition to this, regular players are also offered the opportunity to avail of promotional bonuses from time to time. These bonuses can include anything from free spins to win multipliers which help to keep the game interesting. However, Authentic Gaming has done enough to keep even casual players from losing interest, which is why Roulette Casino International is one of the most popular live roulette games on the web.
Overall, fans of roulette are in for a treat with this title, particularly if they appreciate the fast-paced action that comes with automated online roulette. In addition to this, high stakes, high payout ratios and a glamorous casino aesthetic make Roulette Casino International a great option for live roulette and online casino aficionados. It's a convenient way to enjoy a slice of casino action from anywhere in the world, without having to even leave the house.