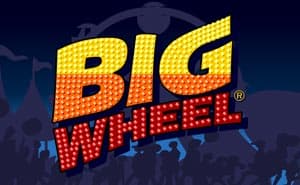 Big Wheel
Base Game
Big Wheel is played on a single payline on a 3x3 reel slot.
Near Miss
The Near Miss feature will begin when the Big Wheel symbol is one symbol away from triggering the Bonus. When the symbol is near, there is a 50/50 chance of triggering the Near Miss feature and getting the Big Wheel Bonus.
Big Wheel
If the Big Wheel lands in the centre of the reels, then the Big Wheel bonus will begin. You will get one spin of the Wheel, revealing one of the following bonuses.
SuperJackpot
If the Big Wheel lands on the SuperJackpot, you'll be instantly given 30x your stake. You'll also trigger the Repeat Chance feature, giving you the opportunity to win the Jackpot another 10 times, meaning you'll get 100x your initial stake.
RoundABout
During the RoundABout feature, a light will move around the outer 8 symbols on the reels. Press the Stop button to make the light stop and highlight one of the symbols. The symbol that is highlighted will then be awarded with a 3 of a kind win.
RollerCoaster
Choose a number of steps to light different fruits on the award panel. Each time you reveal 3 of the same fruit, you'll be awarded a 3 of a kind win of that fruit.
Duck Shoot
Landing on the Duck Shoot symbol will give you 3 cherries on the award panel. You will then have 3 chances to light up the next reward on the panel. Keep on playing until you have revealed all the awards on the panel or until you fail to reveal the next symbol. Revealing all symbols will award the 30x SuperJackpot.
Ring the Bell
The Ring the Bell feature moves each reel by one position. During the feature, each Bell that appears on the reel will award a cash prize. After the first move, you can choose to move the reels again or take your money. If no more bells are revealed when you choose to move again, the prize you have won so far will be lost.
Crazy Reels
The Crazy Reels feature allows to you win on any 3 of a kind win, even if they don't appear on the 1 payline. Any 3 in a row symbols will be awarded as a 3 of a kind win. The Crazy Reels feature can also be randomly triggered during any losing spin during the Base Game.