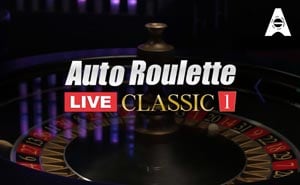 Auto Roulette Classic
How Does Roulette Auto Classic Roulette Work?
Most roulette wheels in casinos are operated by a physical croupier who will collect bets, release the marble and announce the winning number. An automatic roulette wheel differs from this format as it doesn't require a croupier or a physical presence to operate it.
The wheel is controlled by a computer and compressed air, allowing bets to happen more frequently. Although the wheel uses a computer, it is important to note that the wheel is not a simulation but a physical game that requires technology to operate. Many physical casinos are opting for automatic roulette wheels to keep up with the high demand for roulette and reduce the number of croupiers needed on a casino floor.
When you play Auto Classic Roulette you will see a real roulette wheel spinning live, streamed via a high quality feed directly to your device. Any bets are placed on the outcome of a physical wheel that you can watch in real-time, just as you would if you were physically standing in the casino.
How To Play Auto Classic Roulette
Playing Roulette Auto Classic by Authentic Gaming is almost exactly like playing roulette in a physical casino, the only major differences are the absence of a croupier and the process of how bets are placed. During Auto Classic live roulette, bettors are able to place a bet on a number, from 0-36 or on red or black. Those placing bets should wager where they think the dropped marble will land on the wheel.
If you're familiar with online casino games then you'll find Auto Classic Roulette simple to play. Once you've joined the game, betting is controlled via a slick on-screen interface that provides options for various types of bets along with game stats.
One of the attractive features of roulette is that you are not limited to placing one bet, individuals can place multiple bets on a roulette wheel to improve their gaming strategy and increase their chances of winning. For Auto Classic, you are able to place bets on statistics, normal betting grids and the Racetrack.
What Are The Features Auto Classic?
Each game round takes 68 seconds, with a betting time of 30 seconds. This is ideal for players who like a faster pace of roulette than what is offered in casinos, but want a longer betting time than speed roulette. With each round lasting just over a minute, players can experience the adrenaline of roulette but in a more manageable time-frame. For players who prefer to place multiple bets at once, the game has an automatic spin feature which allows an individual to repeat the same bets for a set amount of rounds, so they can sit back and watch the game with their bets already placed.
Are There Any Special Features In Auto Classic?
Authentic Gaming is often distinguished from other live roulette companies due to their exceptional player interfaces, and Auto Classic Roulette is no different. Players are able to view the statistics of the last 250 spins easily on their interface and win percentages are not only available for each number, but for each area of the roulette wheel. On a player's interface, a Racetrack can be placed next to a normal betting grid allowing for repeat, double and favourite bets to be made with ease.
For fans of automatic roulette, playing Roulette Auto Classic by Authentic Gaming will no doubt be an enjoyable experience. Overall, the game offers the live casino experience of roulette in a much more easily accessible format than having to enter a physical casino. With automatic roulette, bets can be placed and controlled much more easily, allowing seasoned gamblers to test their betting strategies efficiently and effectively.