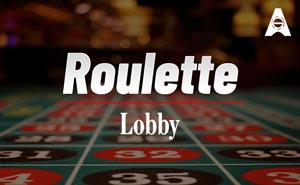 Authentic Roulette Lobby
About Authentic Gaming's Live Roulette
Authentic Gaming lives up to its self-titled expectations and offers Pink Casino players an 'Authentic' Live Roulette experience! Built within a premium gaming atmosphere with leading casino technology, our Pink Players can spin the infamous Roulette wheel across a whole spectrum of thrilling roulette game variants. With luxurious destinations such as the Royal Casino of Denmark, or Casino International on the shores of the black sea, our Pink Casino players can play a premium game of roulette across the world, right from the comfort of their home. Better yet, when our Pink Players log into Authentic Gaming's Live Roulette Lobby, they can across all devices! Meaning that a world-class Live Roulette experience is available at Pink Players' fingertips - whenever they please! Enjoy a spin of Authentic Gaming's Live Roulette across mobile, tablet and desktop devices.
What To Expect From Authentic Gaming's Live Roulette Lobby
Pink Casino players can enter the Authentic Gaming Live Roulette Lobby and be greeted with a premium European casino experience from the get-go! Once opening up the lobby, Pink Players will be greeted with four different categories: Top Games, Live Roulette, Auto Roulette and Real Casino, these categories can be explained as follows:
Top Games
Top Games section highlights the most popular Live Roulette variants currently running across the Authentic Gaming Lobby. The Top Games category showcases the Roulette games with the most players currently active in the lobbies. Authentic Gaming's Live Roulette games offer Pink Casino players the chance to play in real-time, amongst other players from all around the world!
Live Roulette
The Live Roulette category highlights the games of Live Roulette that are currently in play, in real-time. Clicking on one of these Live Roulette games will take you straight to the casino floor, complete with a professional dealer where the interactive betting panel is present underneath, ready for Pink Players to place their wagers.
Auto Roulette
The Auto Roulette section, takes Pink Players to all the available games of roulette that are active without an interactive dealer. The wheel is automatically manned and Pink Players can set their wagers whilst an automated wheel is present.
Real Casino
The Real Casino category showcases all the available Live Roulette games currently active across Real Casino floors! Pressing this tab will transport Pink Players to games of Live Roulette that are live from the VIP room of a real life casino floor. With luxurious casino destinations including Denmark's Royal Casino.
Live Roulette Game Selection
Authentic Gaming's Live Roulette Lobby offers Pink Players an incredible selection of some of the most premium Live Roulette games, these titles are as follows:
Blaze Live Roulette
Casino Floor Live Roulette
Authentic Roulette Live Foxwoods
Auto Roulette Live Classic 1 & 2
Auto Roulette Live Speed 1 & 2
Authentic Roulette Turbo
Authentic Roulette Platinum Casino
Authentic Roulette Live Royal Casino
Auto Roulette Live Duo
Authentic Roulette Casino International
Authentic Roulette Duo International
Authentic Roulette Professional
Authentic Roulette Original
Authentic Roulette Duo St Vincent
Authentic Gaming Live Roulette Dealers
Most of Authentic Gaming's variants of premium Live Roulette games are manned by professional Live Dealers, to offer our Pink Casino players an unrivalled live casino experience, mimicking the next best thing! The professional croupiers will greet you once you enter the room and remain professional while Pink Players join other players from across the world to enjoy a classic game of Live Roulette. Feel right at home in one of Authentic Gaming's Live Roulette rooms, as the professional croupiers interact with Pink Players via chat and congratulate players on their winnings, making Pink Players feel involved in a friendly, professional manner.
About Live Roulette
Roulette is a timeless, classic casino game which has been around long enough to be a popular casino favourite across the world. This all time favourite casino offering has been available across Pink Casino for a number of years, in exceptional online roulette table game format. However, Authentic Gaming's Live Roulette Lobby takes Pink Players Roulette experience to an immersive new level, with impressive Live Roulette games!
If you're unfamiliar with the basics of Roulette, the game essentially consists of Pink Players guessing which spot the ball will land on when spinning the infamous Roulette Wheel. Guess where the ball will land by placing a bet on either red or black, odd or even numbers, or a single number and colour combination entirely. The diverse betting options make Roulette a thrilling Live Casino experience! Take a seat in Authentic Gaming's Live Roulette lobby and watch on as the infamous Wheel of Roulette spins to potentially grant players huge winnings!