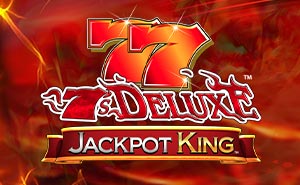 7s Deluxe Jackpot King
Other 7s Deluxe Casino Games
About 7s Deluxe Jackpot King
7s Deluxe Jackpot King will be of particular appeal to fans of traditional slot machines that tend to be packed with fruity symbols and glitzy gems. This, like old-school slots, offers substantial gameplay within the confines of a small 3x3 set of reels, much like the original 7s Deluxe slot game. However, the Jackpot King version provides a splash of modernity with a progressive jackpot feature that can be triggered at random during any spin.
While there is no extensive list of casino bonus rounds to discover in 7s Deluxe Jackpot King, you do get an impressive contemporary rendition of nostalgic fruit machines - and the high volatility gameplay can yield dazzling payouts!
7s Deluxe Jackpot King Bonus Features
Jackpot King: The Jackpot King integration is the primary feature of this 7s Deluxe slot - and it's one of its main defining characteristics. If you're unfamiliar with Jackpot King slots, it offers progressive community jackpots. Anyone playing a slot game in the Jackpot King network will contribute to the three jackpot prizes' overall value, and anybody can win! If this feature activates, you'll be taken to a fresh set of reels which will spin to reveal crowns; the more crowns you collect, the bigger your multiplier prize will be and the further up the paytable you will move. After each spin, you will choose one of the royal symbols to reveal the next move. If you gain access to the elusive Wheel King feature, you're just a spin away from winning an incredible prize!
How to Play 7s Deluxe Jackpot King
How to Play: On-screen you'll be shown the value of the current bet; if this isn't suitable for your budget, you can change it accordingly by using the up and down arrows to toggle through all the available options. Whatever you select will be deducted from your available balance every time the reels spin and determine your payouts' value. When you're ready to play, you can use the Spin button to start spinning.
How to Win: Outside of the Jackpot King feature, you can win payouts by simply having 3-of-a-kind combinations land across a diagonal or horizontal line. There are 5 paylines in total that symbols can land across to award a payout.
If you liked this fruity slot, try out 20p Slot